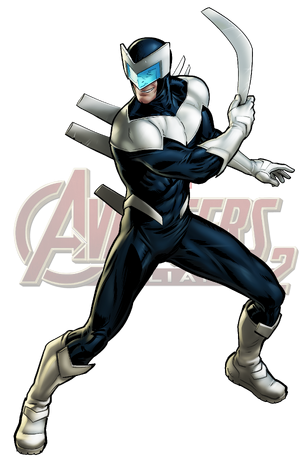 "Using the athletic prowess that he refined as a former professional sports star, Australian Fred Myers has since turned to a career as a mercenary. Wielding a variety of weaponized boomerangs with lethal accuracy, Myers likes to flaunt his impressive skills whenever he takes on a contract".
Class:

Infiltrator
Organisations:
Sinister Syndicate
Story AppearanceEdit
Note: These are his stats at Level 14
Health: 461
Attack: 697
Defense: 661
Speed: 697
Accuracy: 770
Evasion: 697
| Ability | Effect |
| --- | --- |
| Razorang - Single-Target Attack | Applies Bleeding to target |
| Shatterang - Single-Target Attack | Applies Exposed to target |
"Keeping himself out of harm's way, Boomerang begings stealthy after dodging an attack. His projectile attacks are bad enough on their own, but the frequency quickly reduces heroes' defenses, particularly to his trusty Razorangs".

Community content is available under
CC-BY-SA
unless otherwise noted.