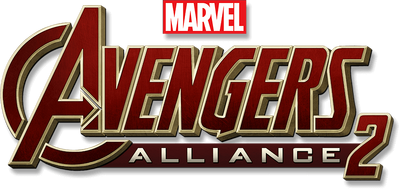 Welcome to the Marvel: Avengers Alliance 2 Wikia
The unofficial database about
Marvel: Avengers Alliance 2
that
anyone can edit
!
The Marvel: Avengers Alliance 2 Wikia has 688 articles, 6,050 pages, and 1 active Users
since beginning in December 15, 2015!
Note: This is an English Wiki, please do not add content to this Wiki in other languages or attempt to translate
existing articles into translated versions here. If you would like to translate the articles and reuse them on a different wiki,
you are free to do so provided you follow the terms of the CC-BY-SA license. You can start a wiki in your language here.
In compliance with COPPA, the Wiki has been restricted from Anonymous Contributing. Create an Account for free and join us!
(NOTE:- All The Abilities Graphics will be uploaded in the next few days)
There are no limited purchases available.
How do you like the game so far?
Info About MAA2Edit
Marvel: Avengers Alliance 2 (MAA2) is the sequel to the Facebook and mobile game Marvel: Avengers Alliance, which was developed by Offbeat Creations and published by Playdom. Both games feature 3v3 turn-based combat, requiring strategy to overcome your foes. Both MAA1 and MAA2 are freemium games in nature, being free to play but having additional content that can be purchased with real currency.
Unlike its predecessor MAA2 features no playable agent character and allows you to bring an ally's character to battle along with 5 of the player's own heroes (only 3 are active at any time).
Just Getting StartedEdit
The game launched globally on Android, iOS and Windows 10 on March 30, 2016.
Which hero do you like to play the most?
The Civil War Spec Op is over. What did you get from it? Please let us know.
Community content is available under
CC-BY-SA
unless otherwise noted.