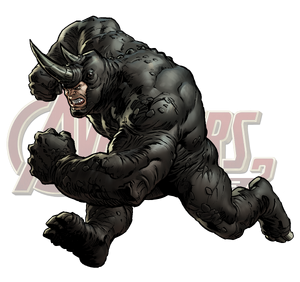 "Aleksei Sytsevich is the walking definition of "dumb muscle". His incredible strength, combined with the durability granted him by his protective Rhino suit make him incredibly dangerous in combat, even if his IQ leaves something to be desired".

Class:

Bruiser
Organisations:
Sinister Syndicate
Story AppearanceEdit

Chapter 3 - Middle of Knowhere
Note: These are his stats at Level XX
Health:
Attack:
Defense:
Speed:
Accuracy:
Evasion:
Rhino is slow to buil up speed, but when he winds up, beware his charge. Not only does he hit like a truck, the damage will be worse if he's done any preparation, boosting his own Attack and debuffing his opponents' Defense.
Community content is available under
CC-BY-SA
unless otherwise noted.