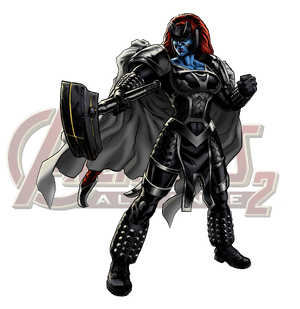 "Tanalth is an elite member of the alien Kree's Pursuer Corps, a military taskforce responsible for hunting fugitives of the Kree Empire. The Pursuer Corps works alongside the Kree Accuser Corps to protect the Empire's interests and enforce its judgments."
Organisations:
Kree Empire
Story AppearanceEdit
Chapter 3 - Middle of Knowhere
Note: These are the stats at Level XX ****

| Name | Description | Effect | Notes |
| --- | --- | --- | --- |
| Pursuer | Attacking a pursued target adds an additional stack of Pursued | | |
| Super Villain | Takes turns faster | | |
"One strike from Tanalth's Universal weapon is enough to leave her foes traumatized, but her deadliest asset is her unshakeable determination. Once she starts pursuing a target, they won't be saved by Stealthy or Protecting, and her attacks carry extra pain."
Community content is available under
CC-BY-SA
unless otherwise noted.