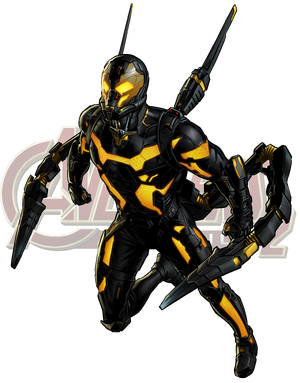 "Daren Cross was Hank Pym's protege. That is...until he made it clear he was determined to unravel the secrets of shrinking technology--secrets that Pym did not want rediscovered. But Cross persisted and succeeded in duplicating Pym's Ant-Man technology. The result:a militarized armor dubbed Yellowjacket".
Story Appearance: Spec Op 01: Matter & Ant-Matter
Organisations:
Hydra
Note: These are the stats at Level 30 ****

"With control over his size, Yellowjacket can become Stealthy at a moment's notice and frequently does immediately after being attacked. His laser blasts and microscopic blows break down defenses and weaken foes to further energy attacks".
Community content is available under
CC-BY-SA
unless otherwise noted.